TV signals can be affected by atmospheric conditions, including high air pressure which brings fine weather.
---
Effect of Weather on Reception
The UK television transmitter networks are engineered to a very high level, so impacts due to the weather are rare. However, as there are a limited number of frequencies to broadcast television services, we need to re-use them numerous times across the UK. When certain weather conditions occur, they allow the signals carrying television services to travel further than expected. Therefore at these times, you can then receive different television services that are using the same frequency.  
Normally, the signals from each transmitter can only be received by those homes that have aerials with a direct line-of-sight to the transmitter. Being able to receive more than one signal using the same frequency can cause problems such as pixelation. This is known as co-channel interference and is caused by tropospheric ducting. For more information see our guide on tropospheric ducting.
This can also happen with the television relays in our transmitter network which receive their signal from another transmitter.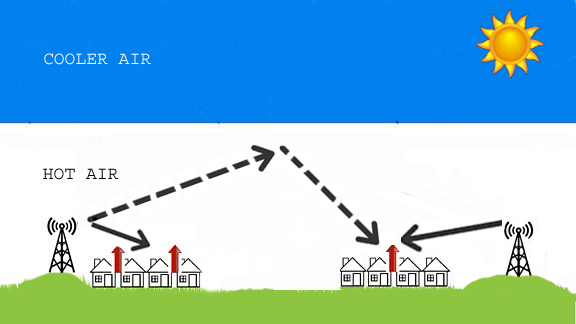 What can we do?
We have no control over weather conditions that can cause tropospheric ducting. It tends to happen in the summer, mainly in the evenings and usually linked to high pressure. The impact can last from a few hours to a few days and can cause intermittent impacts to the service during that time.
What can you do?
At these times, there is nothing that can be done but to wait until the weather condition changes. You should not retune your television when this happens.
If you have re-tuned your television, we would recommend doing a manual retune to the transmitter your aerial is pointing towards. We have a guide to help you manually retune.